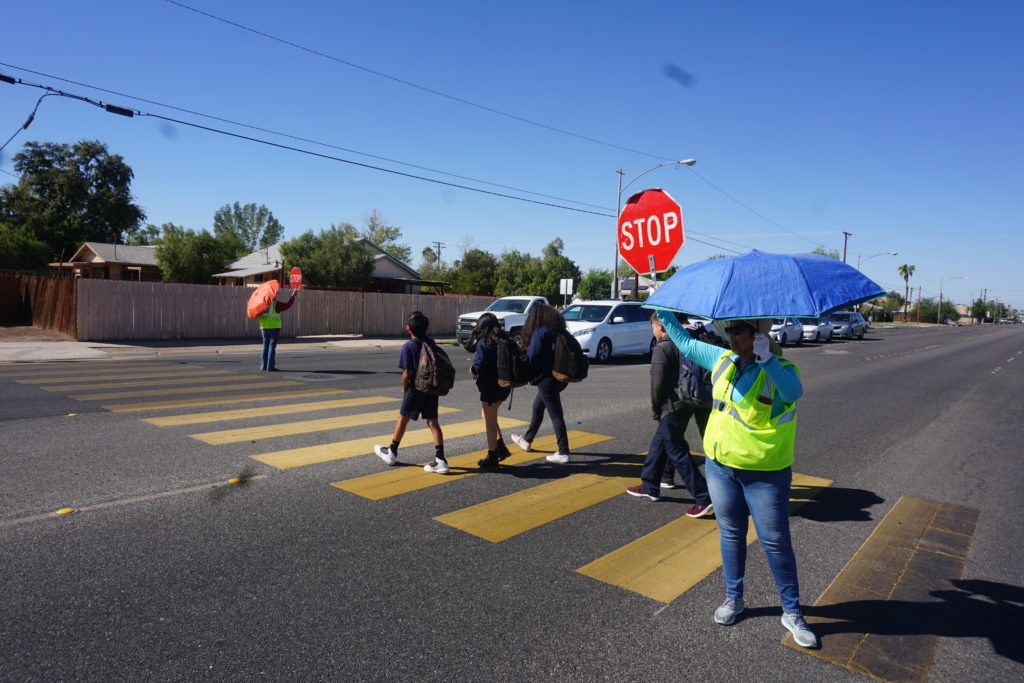 In the morning hours before the start of the school day, Elbia Escalera stands watch at her post, a corner on one of El Centro's busiest thoroughfares along Imperial Avenue where motorists make their way north and south along the four-lane roadway.
Escalera is waiting and mindful of everything happening around her, as is her partner Yolanda Staton.
They have to be. It is their duty.
When children appear at the corner of Holt Avenue, her work begins. Pressing the button that activates the crossing lights, she grabs her familiar red octagon stop sign and enters the crosswalk, an arm raised signaling motorists to stop until the children have safely crossed. Because the intersection is so busy, her partner, Staton, takes the lead from the opposite side of the street. Escalera is a crossing guard with the city of El Centro and has been for 18 years.
She, like all of her counterparts stationed throughout the city, and in communities valleywide, takes her work very seriously as she is entrusted to protect the city's youth on their way to and from school.
Ask her what is most rewarding about her job, and she is quick to answer. "The children, up until now, have always been safe" during her watch.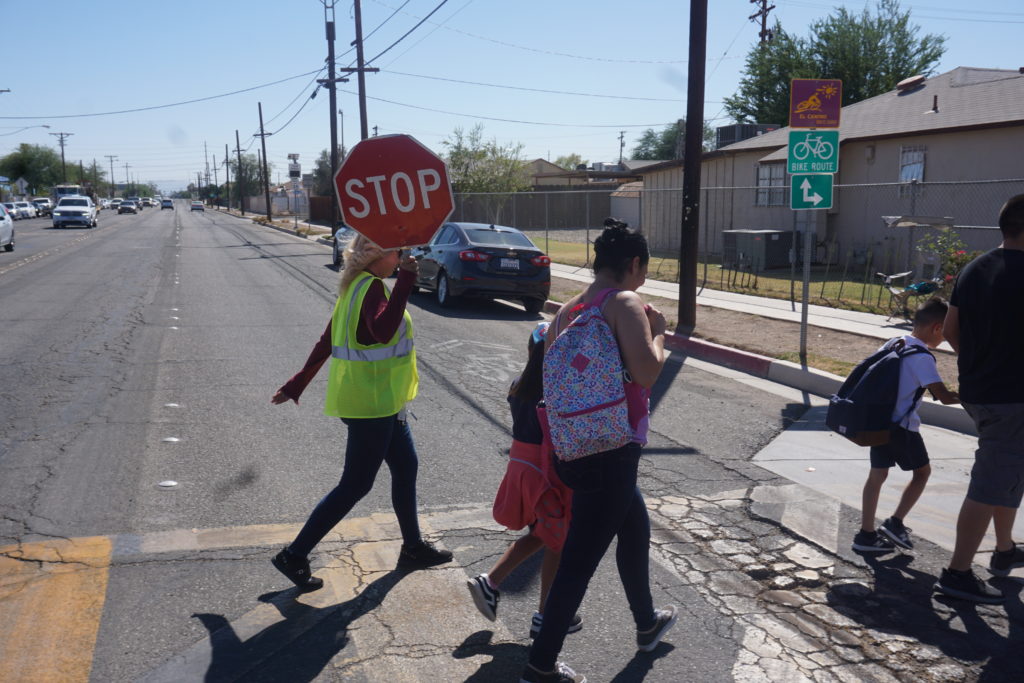 In the city of El Centro, there are two crossing guard programs. The city runs a program with 18 guards assigned to the major roadways; then, the El Centro Elementary School District has its own crossing guard program with nine guards assigned to the streets right outside the school sites.
They are out there at their posts every morning and every afternoon, regardless of whether temperatures are soaring past 110 degrees, like at the start of the school year, or whether there is a rainstorm. They are used to the elements; even unphased by the Valley's sometimes extreme weather.
To spend time talking to the crossing guards is to listen to the experiences of men and women who, to have a good day's work, have succeeded in keeping the children they are charged with protecting safe for yet another day.
To the city and the school district, they are a vital part of ensuring motorists obey the laws, especially near school sites.
"The City of El Centro's crossing guard program is an extension of the services the Police Department offers our citizens and the safety of our school children is a high priority for us," said Ruben Martel, records supervisor for the Police Department, whose division oversees the city crossing guards. "We have full confidence in the abilities of our crossing guards to help our community's children on a daily basis and ensure their safe commute to school and home."
John Beltran, director of district safety for El Centro elementary schools, who oversees the district's guards, said: "I think all of my crossing guards love what they do, and they understand they are going to encounter drivers who won't follow the rules. They know they may need to act very quickly in the best interest of the students."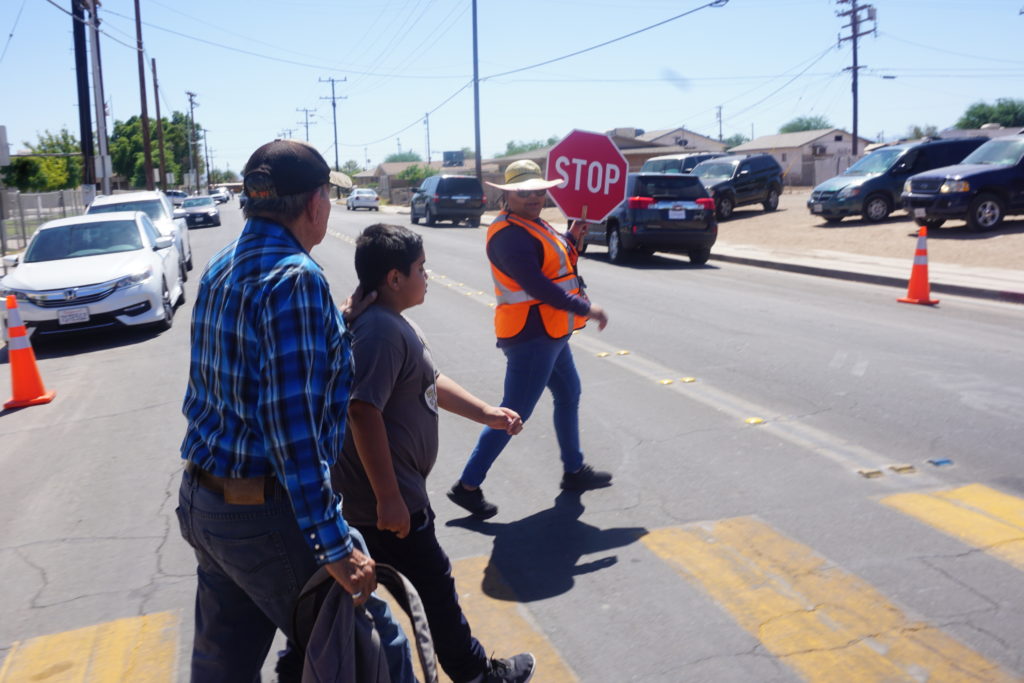 Maria Cortez Romero is one of the crossing guards for the school district. She is assigned to Harding Elementary School, along with her partner Alondra Ruiz. They team up on what is a busy four-way intersection at the school's front gate.
Romero said she wants to have a positive influence on the children in the time she spends with them each day.
"Our children need a lot of positives in their lives, and if I can have a role in bringing something positive to them, it makes me feel good," she said.
Carolina German also serves as a crossing guard for the school district. She is assigned to Washington Elementary School.
"I have been working with kids ever since I graduated high school," she said. "I have tried other occupations, but nothing has filled my heart like working with children."
Both Romero and Beltran said a key part of their job is building trusting relationships with the children and the parents. Their job is also about imparting lessons to both the students and their parents about how important it is to follow the rules and to have some discipline in their lives.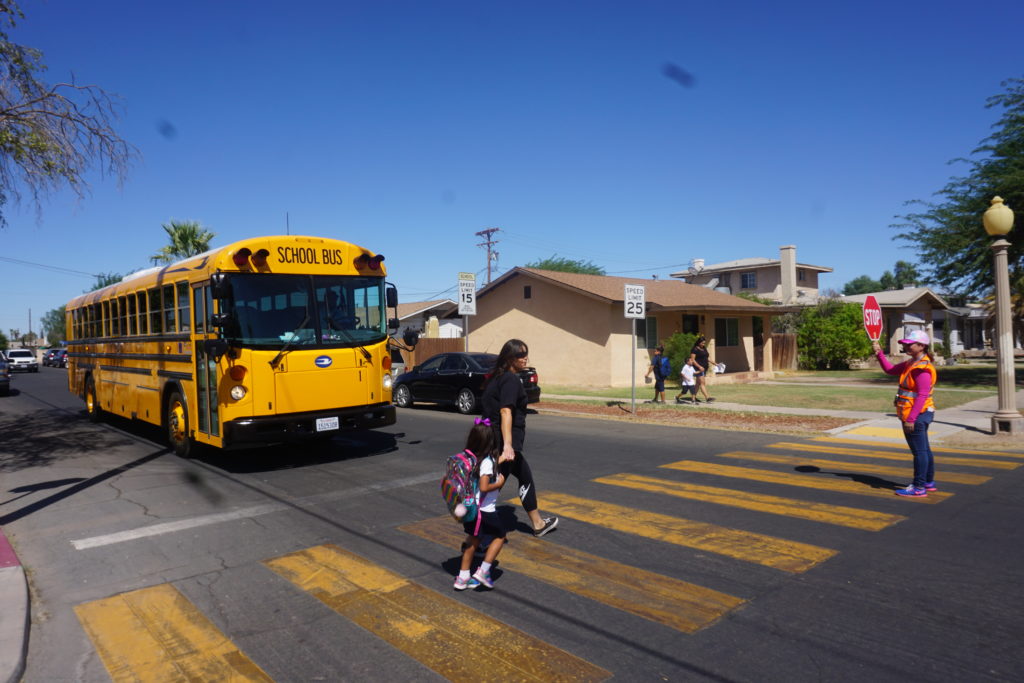 "When they are children, you have to teach them to look both ways," Romero said, "but then as they get older, they tend to lose that, so we have to teach them again, and we definitely have to teach the parents. We will have conversations with them when we need to make sure they are teaching their children to safely cross the street."
German agreed sometimes the most important lessons are the ones shared with parents, and even in those moments when the crossing guards have stronger words with parents to ensure they are abiding by the rules when delivering their children to school or picking them up, it is all done in a positive and courteous manner.
"We let them know it's all for the children's safety," she said. German added, "We are responsible for the lives of those children. If something were to happen to them, it would stay with us forever. We don't want to see anything happen to these kids."
Ana Martinez, a crossing guard for the city, assigned to the corner of Eighth Street and Oleander Avenue near McKinley Elementary, has been on the job for 12 years. She said a key part of her work is getting the students into the "groove" of following her lead, and not running into the crosswalk.
Once the children understand, she also has to make sure parents understand that message as well. In fact, all the crossing guards said part of their job is making sure parents safely cross the street, so they need to make sure parents understand they also need to wait for the crossing guard to give the "okay" to enter a crosswalk.
"I tell the parents you need to wait so I can cross you, and if they don't wait, then the kids might see that and think it is okay not to wait for me," Martinez said.
On a recent day at Washington Elementary, as the final bell rang, students started to make their way from the school to the crosswalk right outside the school gate. Both students and parents followed the rules, entering the crosswalk only when directed to do so.
Nine-year-old Isaiah Espinoza, a student at Washington, crossed through the crosswalk with his mother, Soledad, led by crossing guard Carolina German.
Once safely across, Isaiah said, "it's very important to cross with a crossing guard to be safe.
His mother added: "He appreciates her (German) so much."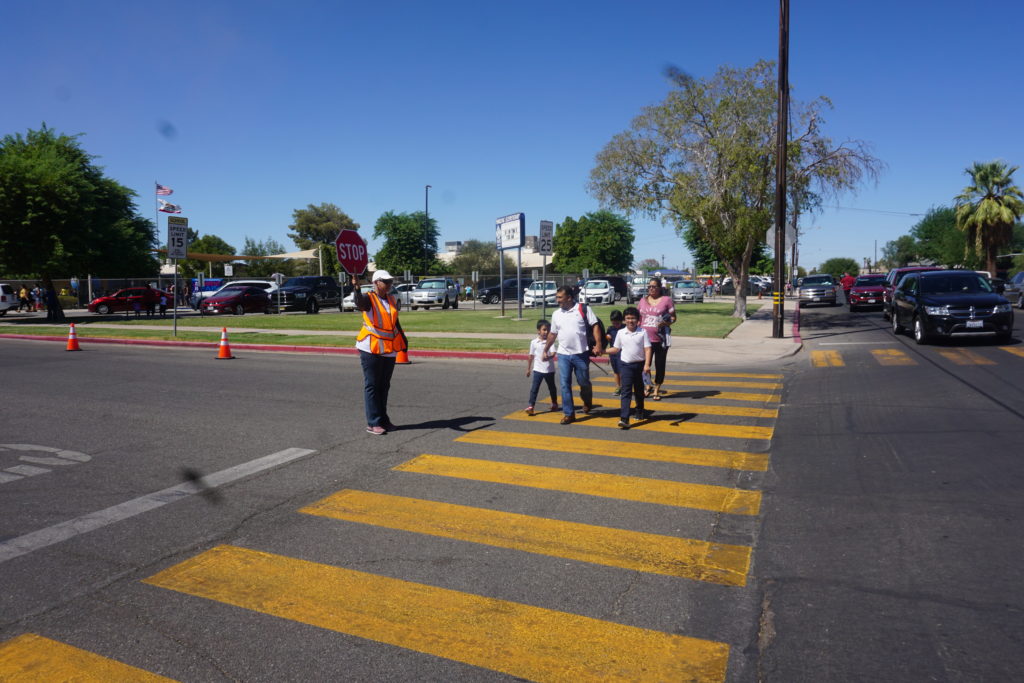 Each crossing guard interviewed for this story said they appreciate the kind words they receive from the students, who will wish them "good morning" or thank them for helping to cross the street.
Escalera, after 18 years of service, will see adults who once were her students. Just recently, she said, while crossing the border, two U.S. Customs officers recognized her and thanked her for all the years she was their crossing guard.
She also has been on the job long enough to see how the change in technology is affecting student safety. These days, students have their faces buried in cell phones or headphones in their ears, both of which can be distraction.
"I tell the students don't just trust in the fact we are here," she said. "The students need to pay attention, too."
Specifically, she and the others interviewed said not every motorist will obey the stop signs, and there have been dangerous moments because of that, which makes it critical that students be aware of their surroundings at all times.
Asked for a final message they'd like to impart to the motorists passing their posts each day, each of the crossing guards said the same. Be mindful of and respect the stop sign. Pay attention, observe and fully stop when directed to do so.