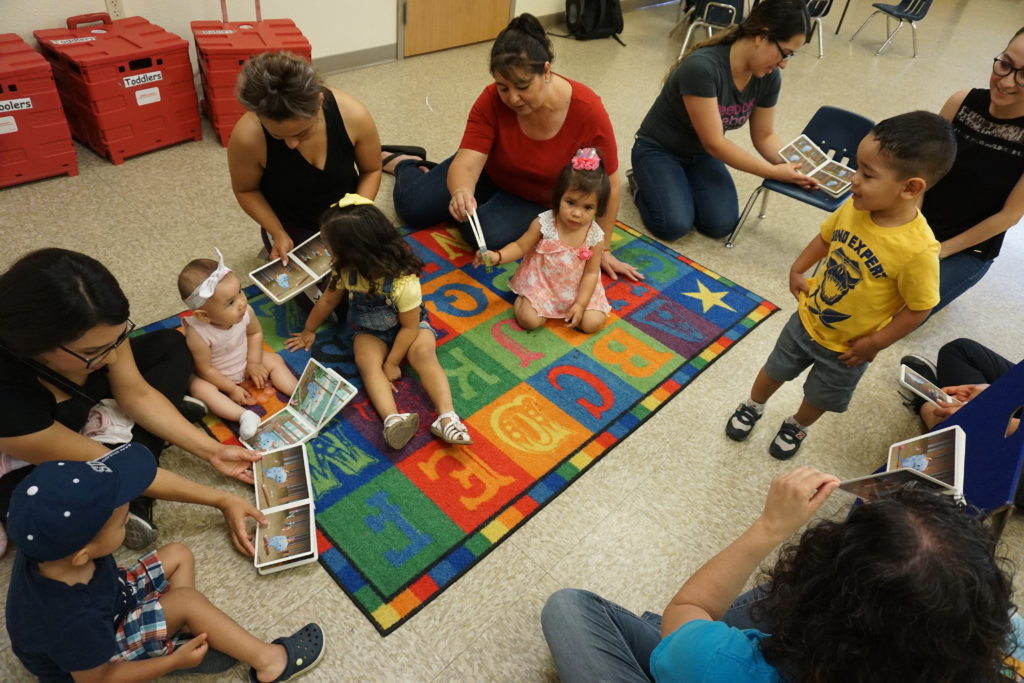 On a typically hot June day, as temperatures began their climb to triple digits, Angelica Escobar sang with her 17-mont-old granddaughter, Scarlett Harmon, inside the Heber community library. When the song finished, they sat and listened to library staff member Rocia Medina read from a book with a finger puppet rising from the pages.
Scarlett giggled and couldn't help but reach for the book.
That's exactly what her grandmother wanted to see, and it's what library staff members get excited about because the hope is that Scarlett and so many young children like her are taking their first steps toward becoming life-long readers when they engage in such activities.
Scarlett and her grandmother are participating in a free family literacy program meant to target the youngest readers. The program is run by the Imperial County Free Public Library system, which serves the outlying areas of Imperial County with libraries in Heber, Holtville, Calipatria and Salton City.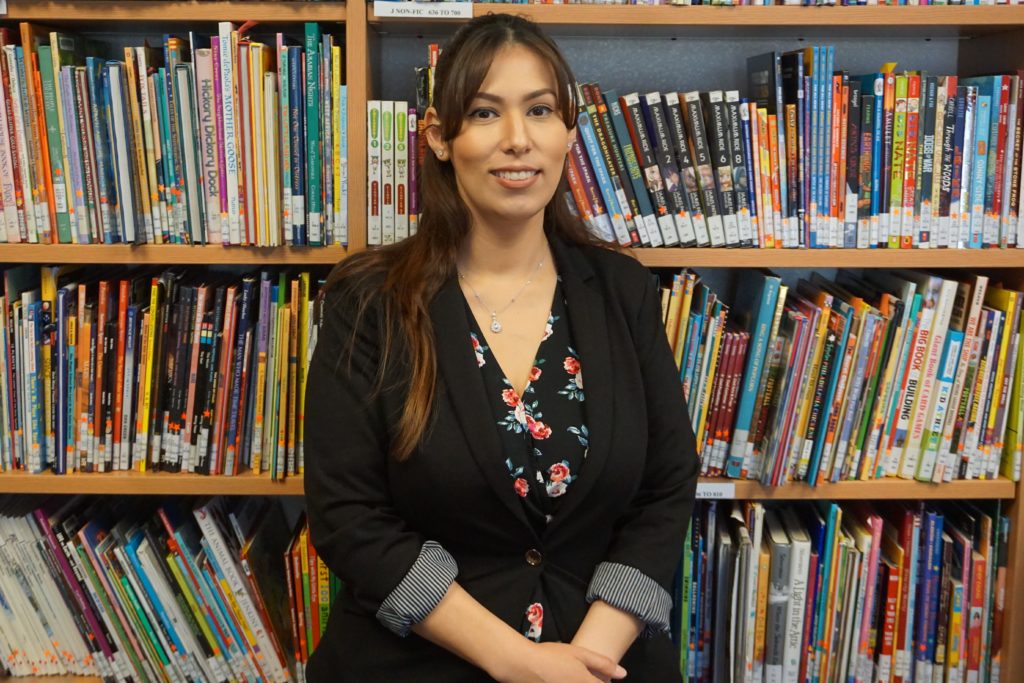 Designed by County Librarian Crystal Duran, the county library program introduces children ranging in age from just a few months to five years old to reading, music, games and crafts at each of the four county libraries. The program engages the children and their parents (and grandparents) in a friendly—even noisy environment—that breaks the mold of the old stuffy libraries where silence was emphasized.
On the contrary, Duran said, public libraries today are vibrant centers filled with family activities where the sounds of learning are welcome.
"I welcome a noisy library," she said, "because it means the library is being utilized."
Duran has been County Librarian for three years, filling the position after longtime Librarian, the late Connie Barrington, retired. Duran refers to Barrington as a mentor along with the city of Brawley's Librarian, Marjo Mello, and the city of Calexico's Librarian, Sandra Tauler, for helping her build her love of libraries and inspiring her to pursue career in the public library system.
After she was selected to lead the county's library system, Duran, who has a master's degree in library and information science from the University of California, Los Angeles, wanted to create programming for the very youngest readers—those up to age five. The program started a year ago.
"We focus a lot on the kindergarten-through-twelfth-grade programs, but our zero-to-five system is something we need to work on," Duran said. "Besides, I'm biased to the little ones. If I can grab them when they are young and get them to pick up a book and check a book out, they'll remember that and use the library throughout their lives."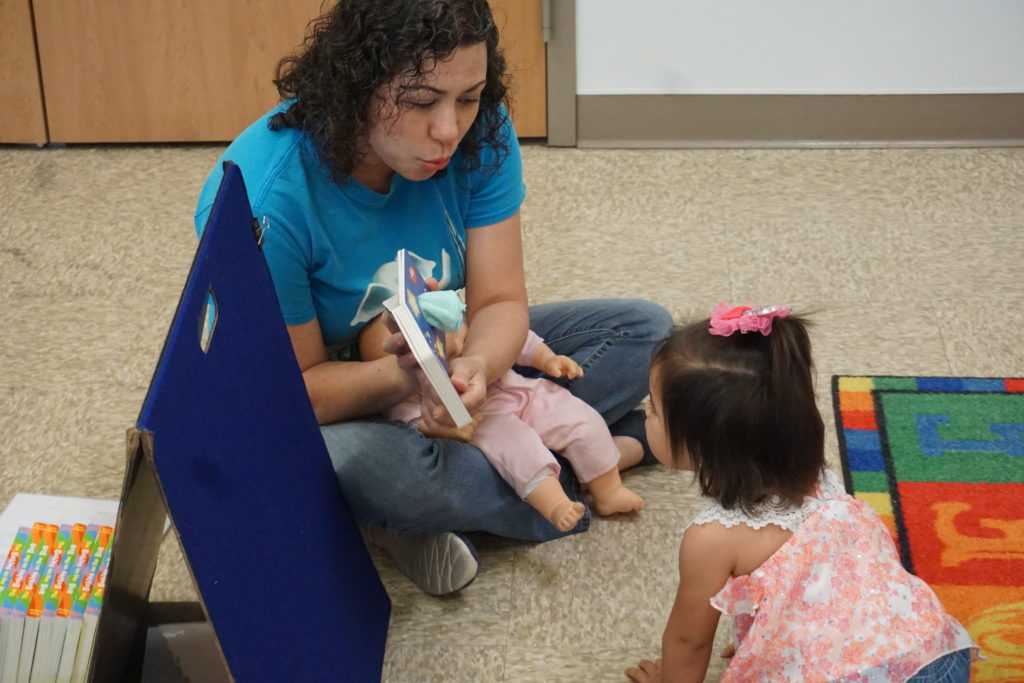 To create the county library system's family literacy program for these youngest of readers, she sought local grant funding, which was awarded by the Imperial County Children and Families First Commission, also known as First 5 Imperial. The commission, formed under the California Children and Families Act of 1998, is able to provide resources to organizations Valleywide focusing on serving children age zero to five. The program for the county libraries, one of many programs funded by the commission throughout the Valley, is part of the library system's Raise a Reader Initiative, and the commission just renewed the program with additional funding for another two years.
The program is divided into three age groups—up to 18 months, toddlers, and ages three to five. Each group has their own programming, from infants who have song time and are introduced to one new story per gathering, to toddlers who have two stories per session and then the older children share in games, craft activities along with reading. And there are multiple components to the program meant to engage both the children and the parents.
For the children, along with the activities during the weekly get togethers, there are also backpacks filled with age appropriate toys that can be checked out with a library card to take home. The toys area meant to build their cognitive skills.
For parents, there is a parent to parent component where they can interact together and hear from guest speakers on topics important to them. As part of the parent to parent program, play areas are set up throughout the libraries (or in some cases, community centers) where the children can have free play time. The idea is that the parents will interact with their children and with each other during the free play.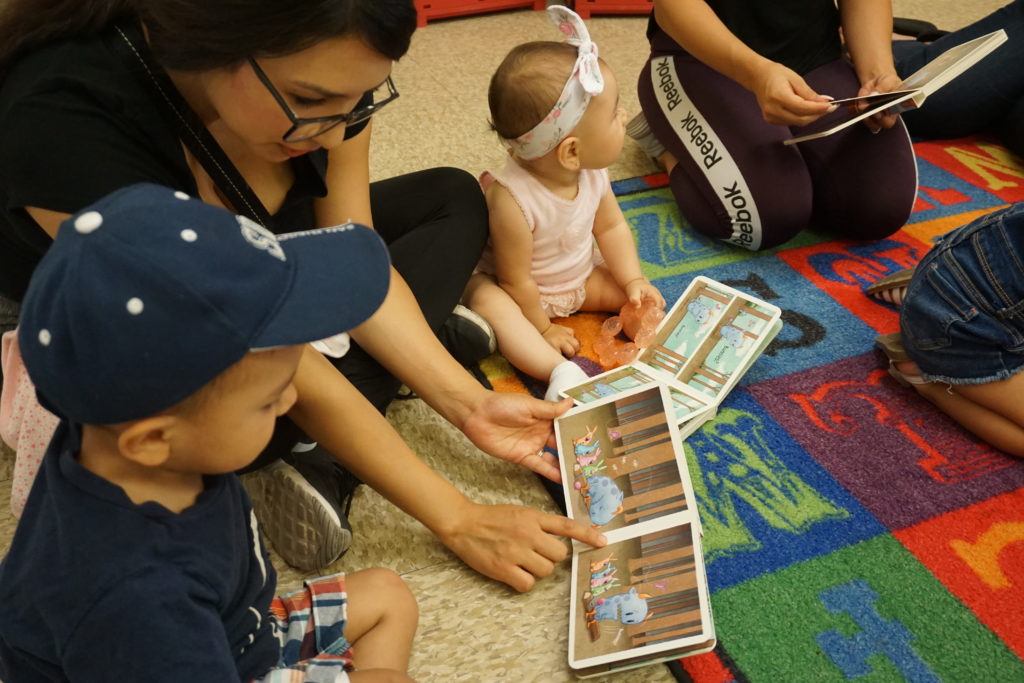 Duran said the parent to parent program has worked. In Heber, for example, some of the parents have formed a stroller group after meeting each other during the program and they will take walks together outside of the program.
"That's the goal—to get them together," Duran said.
On one recent day, a group of parents was at the Heber library for the toddler program. They sang and danced with their children, and the children even got to use musical instruments. The activities were led by Medina, a family literacy specialist, and Balbina Martinez, a library assistant.
The parents said having the chance to bring their young children means a lot because they can share time together as well as have their children introduced to reading.
Heber resident Brianda Bernachi was there with her daughter, Alima, who is 8 months old, and her son, Liam, who is 2 years old. "It's our first time coming," she said, "and I can tell you that my son doesn't like to participate usually, but slowly I am seeing him start to play. That's a big step for him."
She added, "This is important for both of them because they will be learning even before they start preschool."
Duran added of the program, "They're just fun, and they're in-doors, which is important here during the summer. And it's a high-quality experience that we don't always have access to. There are just so many opportunities we are providing, from learning how to hold a book to following along with their eyes to singing. That's all happening through our program."
Escobar said her granddaughter really seems to enjoy the program. "She really likes to sing and to see the different books. This is all going to help her when she gets to pre-school."
For Duran, seeing parents and their children enjoy the library and benefit from it is exactly why she was drawn to a career in the library sciences, and it specifically means a great deal to her to serve the Valley where she was raised.
Duran grew up in Brawley, and the city's public library was the mid-point between school and home. During her middle-school days, she would stop at the library on her way home and "hang out for a couple of hours."
In high school, she worked at the library as part of the Regional Occupational Program, and she continued to work for the Brawley library and then the county library system under the AmeriCorps program. As part of her duties, she worked in adult literacy programs and helped with the Brawley library's LAMB's (Literacy And Mobile Book Services) unit, a large camper that delivers books and literacy programs to children in childcare settings throughout the Valley.
When she transferred to UCLA to continue her education, she knew she wanted to come back home to serve the community, like her mentors, Barrington, Mello and Tauler. They became part of her "library family," and if she had a chance to return to serve in a local library, she was going to take it even after having the experience of working in the much larger Los Angeles public library system.
"I knew I wanted to come back and be a library director," she said.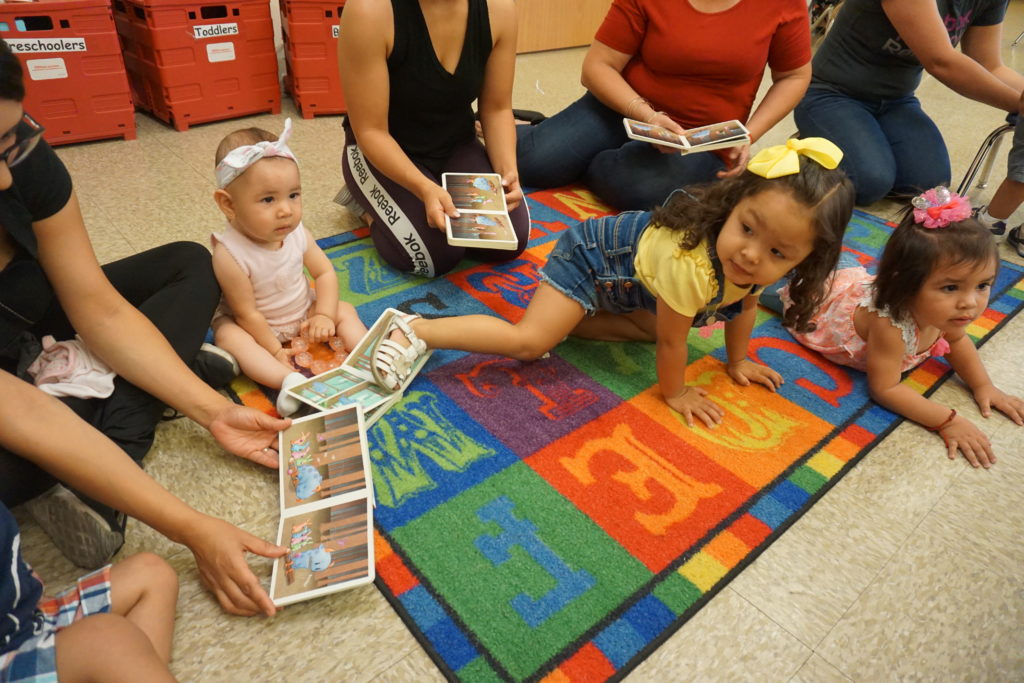 Today, Duran is looking forward to expanding the family literacy program and has already begun to do so. She started a Family Place Library program at the Heber and Calipatria libraries—play areas set aside for children with games, toys and books and also educational materials for parents.
"We have to make the library a welcoming space for families," she said. "They have to know its okay for the child to have a meltdown in the library. That it's okay if you need to breastfeed. They don't have to come here and worry about being quiet."
She next plans to add a Family Place Space at the Holtville library. She's also looking to expand the backpack program to include toys that focus on STEAM—Science, Technology, Engineering, Arts and Mathematics—learning. Duran also would like to add a mobile literacy unit as well, which means she has her work cut out for her to seek grant funding that can make such expansions possible.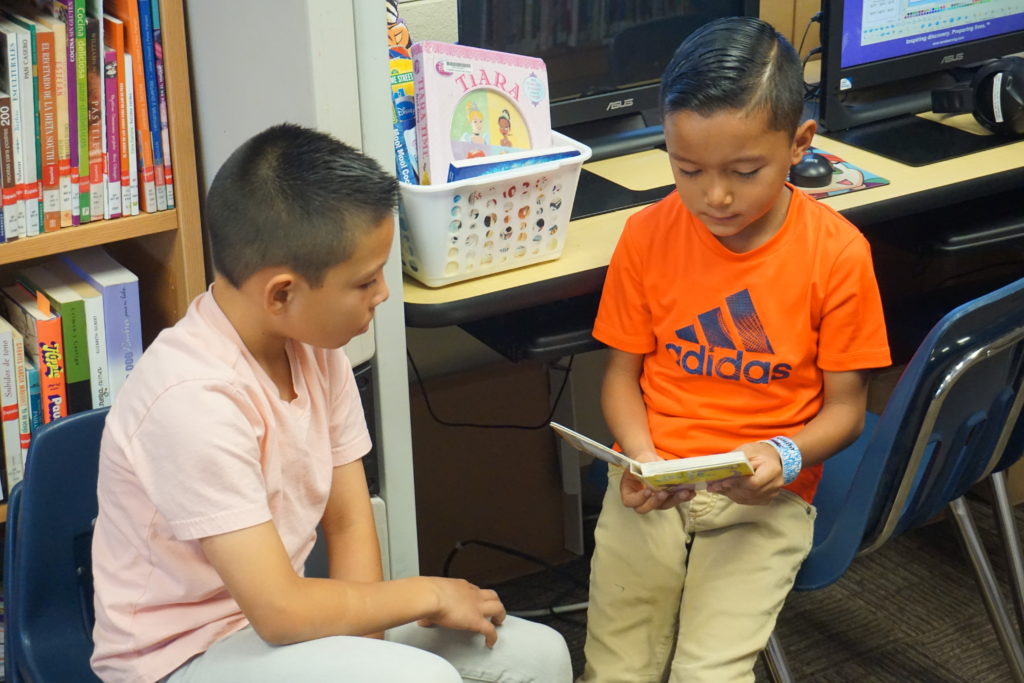 In the meantime, she wants to make sure families know the county libraries are available to meet the communities' reading needs, and the family literacy programs are active this summer and year-round. She invites families who haven't experienced the programs to visit each of the county's four libraries to learn more.
"Just going to the library once a week is going to help the children and help the parents who are their children's first teachers," she said. "We are here to help."