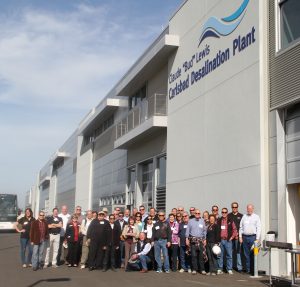 The Water Authority was pleased to take a group of Imperial Valley representatives on a tour of the Claude "Bud" Lewis Desalination Plant in Carlsbad on Jan. 22. The tour not only offered a chance to see the operational plant, which went on line in December, but also provided a great opportunity for Valley representatives and Water Authority board members to get to know each other . This was the second such tour organized by the Water Authority for the Imperial Valley. The first tour took place in October 2014. At that time, Valley leaders and community members had a chance to see the newly constructed San Vincente Dam raise project along with the desalination plant, which at that time was under construction.
The Jan. 22 tour included an inside tour of the operational plant—including a chance to drink desalinated water—and a tour of the Water Authority's Twin Oaks Water Treatment Plant, one of the largest facilities of its kind in North America. Tour attendees learned how the desalination plant produces 50 million gallons of water per day and how that water flows through a ten mile pipeline constructed by the Water Authority up to the Twin Oaks plant, located in San Marcos, where the desal water mixes with other water resources before flowing to the water users.
These tours are a critical way to share information about steps the Water Authority is taking to diversify and manage its water supplies while also underscoring the importance of the Water Transfer Agreement between the Water Authority and the Imperial Irrigation District. The 45-to-75-year transfer agreement means that the Water Authority and IID have a very long partnership ahead and it is important for the two regions—San Diego and the Imperial Valley—to get to know each other. That is where these tours can play a pivotal role—both in sharing information and building relationships.
More than 25 Valley representatives joined in the tour. The Water Authority looks forward to hosting more tours in the future and in coming to the Valley to see the work being done locally on the water issues important to the Valley.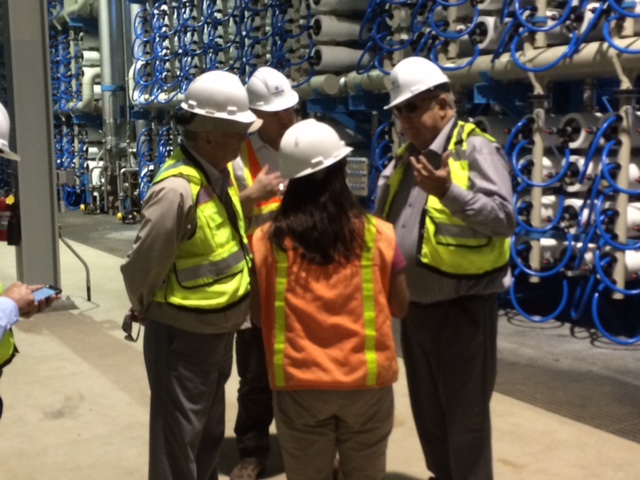 The Water Authority would like to thank everyone who attended the Jan. 22 tour. If interested in future tours contact staff member Darren Simon at dsimon@sdcwa.org or call his office in the Valley Plaza at 760.337.1386.