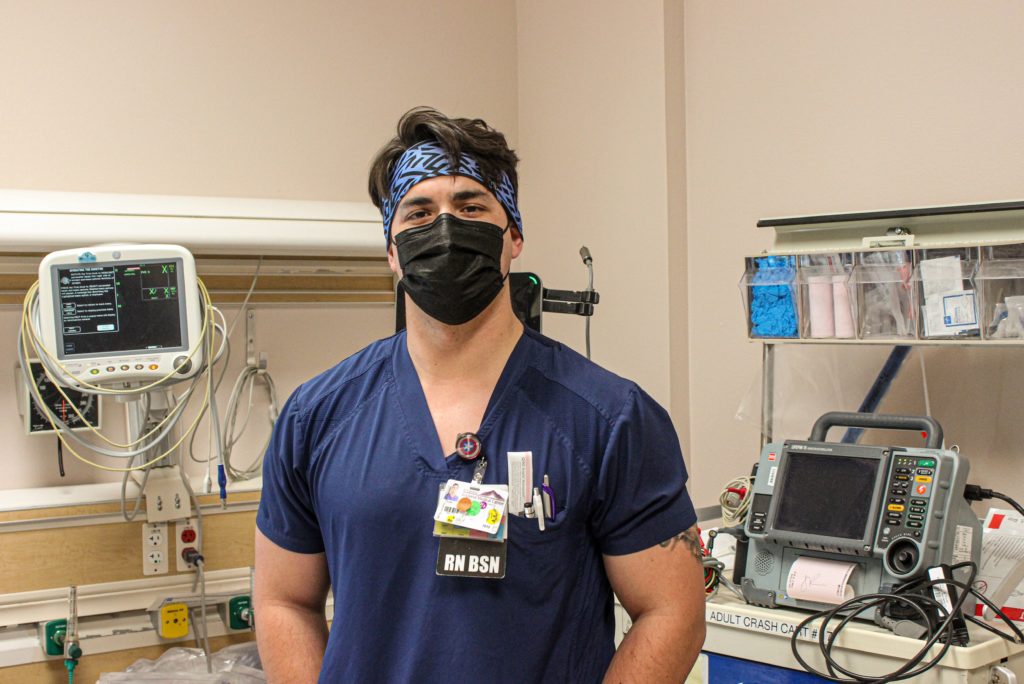 You could say that for much of Charlie Ridaura's life, he's known he wanted to work in the medical field. His older brother is a paramedic, and Ridaura first planned to follow in his brothers' footsteps by becoming a firefighter.
But the Calexico, California native changed his path while working as an emergency medical technician at El Centro Regional Medical Center.
"I started to like working in the hospital," he said. "I was exposed to what nurses do, and I decided this is where I wanted to be."
Today, the 28-year-old, who holds a bachelor's degree in nursing from Grand Canyon University, is coming off the hardest year of his nursing career—a year in which COVID-19 struck nearly 25,000 people in the Imperial Valley, causing the deaths of more than 670.
For nurses like Ridaura, the hospital was the frontline in the battle to save lives. Though he—like everyone who works in the Valley's hospitals—witnessed death and suffering on a daily basis during the worst times of the Coronavirus, his love for nursing couldn't be dimmed by the pandemic.
On a recent day, Ridaura, with the permission of El Centro Regional, shared his story of working as a nurse throughout the past year. In telling his story, he didn't focus on the exhaustion that only those who would work in the medical field could truly understand but rather on the strength shown by his colleagues and the families impacted by the pandemic—and the hope of better times ahead.
Though the worst of the pandemic may have passed, massive tent structures in the El Centro Regional parking lot serve as a reminder of the steps the hospital had to take in order to provide care for the massive number of patients stricken by COVID.
"Disasters are something you receive training for, but this caught us all by surprise," Ridaura said. "You don't go into this field expecting to experience a pandemic."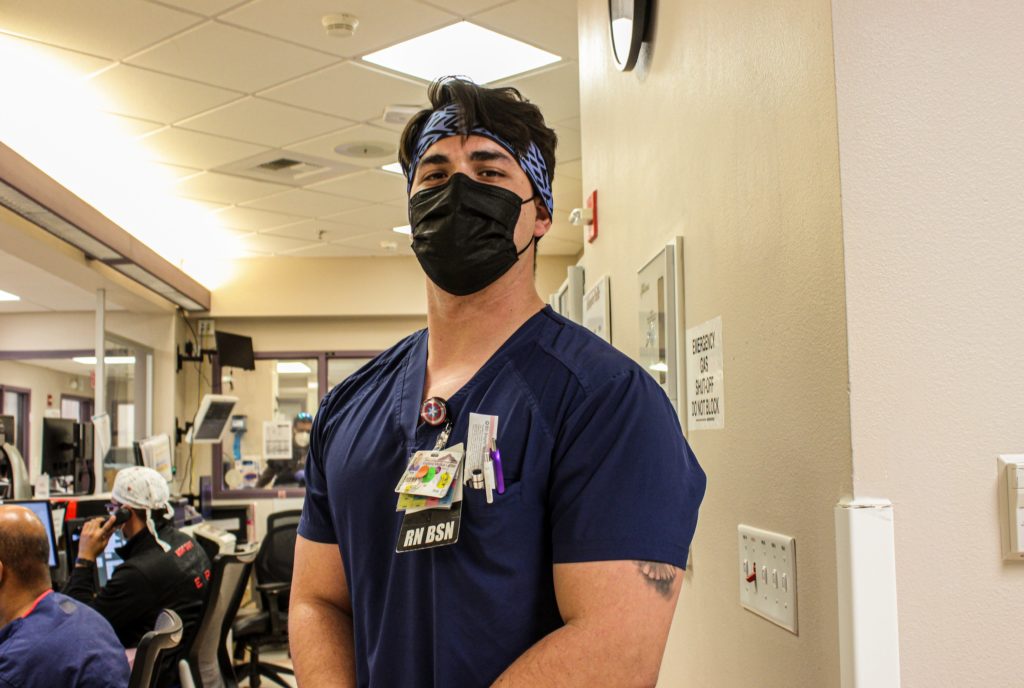 He added, "At the height, the patients wouldn't stop coming. Everyone was sick. It's like you think, where are we going to put all of these patients? As a nurse, you think, how are we going to properly care for them all?"
But care for them all is exactly what Ridaura and all the nurses did, together with doctors and all the staff at the hospital. The same goes for the teams at Pioneers Memorial Hospital in Brawley, California, some 14 miles north.
"A lot of our nurses in our emergency room were new when this started," he said, "but they handled it well. They earned what probably is years of experience as nurses in the span of this one year of dealing with COVID."
What the nursing teams faced during the height of the pandemic was caring for patients who were isolated from their families, some dying, which means the nurses became that critical human contact for patients.
In some cases, the patients' last human contact.
"A lot of these patients were dying alone, and that was hard on a lot of nurses," Ridaura said, and although he has years of experience, it took its toll on him as well. "I've been exposed to this kind of work since I was 19, but there are always those cases that stick with you and are hard to shake off."
He recalls how quiet he and his fellow nurses were in the emergency room as they faced the day to day struggles of saving lives. And he acknowledges there were fearful moments when caring for patients who were so sick, but, he said, you had to put those feelings aside and do what had to be done.
He praises the professionalism his fellow nurses showed—and continue to show.
"Everyone was exposed to so much death and suffering, but we did our job every day. We did the best with what we had, and the hospital did everything it could by opening wards, expanding, bringing in traveling teams and other staff.
"And I'm thankful to the community for social distancing and wearing masks because that helped," he added. "But my heart goes out to the community and the people our community lost."
For Ridaura, having the support of his colleagues was crucial, but he also found support with his family. His fiancé, his parents, brother, and sister were always there for him to talk to, even when social distancing.
And social distancing from his family was crucial.
"For me personally, I always wondered if I could spread COVID to my family," he said. "Having that thought that you could expose your parents was hard. All we could do is do our best to reduce the exposure and pray for the best."
Every day when he got home, he would remove his clothes in the garage and immediately take a shower.
Thankfully neither he nor his immediate family were sickened by the Coronavirus. Today, as of this story, Ridaura has had his vaccine, placing his trust his in science to help keep him safe as he continues to care for patients, and he wants people to understand that the vaccine is safe and a step everyone should take to finally stop the virus.
At the time of this story, the pandemic has lessened its grip on the Imperial Valley, but it has not gone away. There are still people getting sick.
"It still is daily," he said of people coming in with the virus, "but it's not constant arrivals. We are seeing sick patients every day, but they are not all sick from COVID."
And while the stress remains—as there is always stress is a hospital environment—he and his fellow nurses are able to relax just a little as they are no longer overwhelmed by the numbers. And they talk again amongst each other and the rest of the hospital staff, breaking some of that silence felt during the worst of times.
Asked if experiencing this pandemic made him question his decision to become a nurse, Ridaura was quick to answer—not at all.
In fact, he has dreams of one day becoming a flight nurse, and he would like to continue to serve his community here in the Imperial Valley. "I love the patients we serve here," he said. "I've always thought about being in the service of our community, and that hasn't changed. We see people on their worst days, and we try to make a difference. Service of others is what we do."