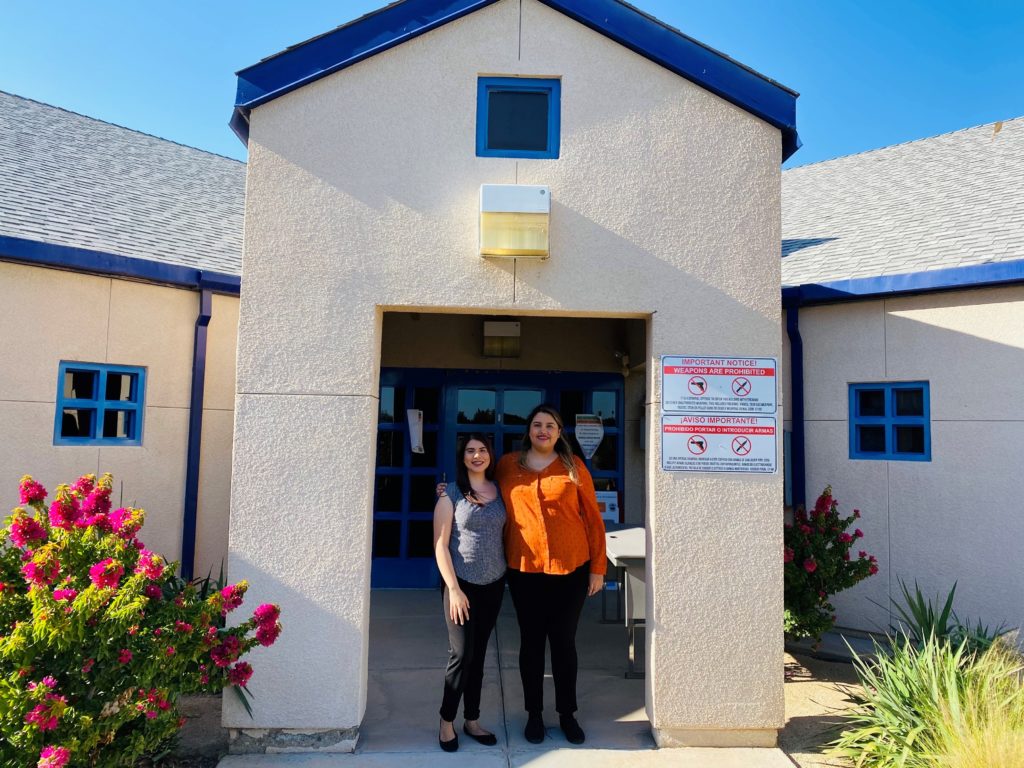 At the Betty Jo McNeece Receiving Home for children, the effort of staff to care for children in the program has continued unphased by the coronavirus lockdowns as workers report each day to the facility.
They must. Their work to meet the needs of the children housed at the temporary care facility, which serves youth removed from their homes by Child Protective Services, doesn't stop even with shelter-in-place directives resulting from the COVID-19 challenge.
The ongoing need to be provide care recently took on an even greater importance when a 3-year-old girl who reportedly had been exposed to the virus was brought to the facility and quarantined in a room away from the other children.
It was then that two social service assistants at Betty Jo McNeece made the self-sacrificing decision to solely take care of the child during her quarantine with each staff member choosing to divide their work into 12-hour shifts, a decision meant to prevent any additional staff from facing exposure and to bring the little girl some sense of comfort in a confusing moment in her life.
Today, the child, whose identity is not being released, is virus free having never been infected and is in foster care, but for three days in early April staff members Diana Barrera, 26, and Daisy Bemavides, 23, voluntarily chose to shoulder the responsibility for her care.
Normally at the center, staff work eight hour shifts to cover a full day, but Barrera and Benavides discussed it and reached the conclusion to care for the child in what became 12-hour shift over three days.
"I realized that by having different people cover all three shifts, we'd be exposing a new person every time a new shift started," Barrera said. "It then occurred to me that if we worked 12 hours, we could have the full day covered and have enough time to rest at home before coming back to work."
Their decision didn't come without fear—not for themselves but for their families.
"I was terrified," Benavides said. "My parents are older and have pre-existing conditions that could make them extremely vulnerable to the virus. I made sure to take the proper steps when getting back home."
Pablo Cerda, who heads the Betty Jo McNeece facility as program manager, said the young girl's situation was the first of its kind at the facility as no other child housed there during the pandemic has been considered at risk.
In the case of the girl, he said, when she was removed from her home, authorities received information she may have been exposed to the virus. However, she showed no symptoms. Still, she was immediately taken to Pioneers Memorial Hospital where a COVID-19 test was done. It would take days to get the results, so, despite showing no signs of the virus, the child had to be quarantined. According to the hospital, the quarantine would have to last 72 hours unless the test results came back early. After the 72 hours, if she showed no symptoms, she could join the rest of the children.
Quarantine meant the little girl would have her own specialized room complete with bathroom, sink, refrigerator, and a stove and separate access door to the outside from the rest of the children. Cerda said to care for the girl, he first reached out to Barrera and then Benavides and both said they would be willing to be with her.
However, then two women came to him with the plan to care for her on their own.
"Between themselves, they proposed this plan to me at the early stages of the assignment and said they would do this until the 72 hours were up or the tests results came back," Cerda said, adding he agreed with them that it would prevent exposures and be best for the child.
"She was very shy and a very scared little girl," he said.
Benavides and Barrera both said it meant a great deal to them to be there for the child.
"To me, all the kids that come into Betty Jo McNeece are in of special care and attention, but she needed extra care because of her health," Barrera said. "A child that young cannot understand what is going on. It makes me happy to have been able to care for her, play with her, and distract her from everything she was going through at the time."
Benavides added, "Being there for this minor was essential. She was already scared of being in a new environment and having her isolated in a small room with random people in masks must have been a very traumatizing experience or her. I had to try to comfort her as much as I could."
Eventually, the 72 hours passed, and the little girl continued to show no symptoms. Her quarantine then came to an end. She was then able to mix with the other children.
"She was becoming so frustrated staying in a small room for most of the day, so seeing her roaming around freely with the other children made me happy for her," Benavides said.
Two days after her quarantine ended, the child went to a foster home, which was one more sense of satisfaction for her two care givers—to know she would continue to be safe and cared for during this transitional period in her life.
Both women said they view their efforts over those three days in April as just an extension of their duties at Betty Jo McNeece.
Cerda said he is proud of them both and equally proud of all the work his staff as done to continue care for all the children during this challenging time.
The coronavirus has not kept staff away, but it has changed the way the facility operates from taking extra safety measures to eliminating in-person visits from family members of the children. But the facility remains a twenty-four hour a day, seven days a week operation and must abide by staff to children ratios.
"It's taken a very drastic toll on staff," Cerda said. "We've had to change the way we do business, but we continue to be there for the children while ensuring their safety and the safety of staff."