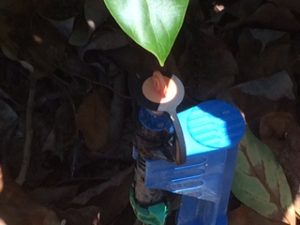 On Friday, June 9, the San Diego County Water Authority's Colorado River Program (CRP) team had a chance to meet with the San Diego County Farm Bureau and tour an avocado farm tucked in the hillsides of Escondido. It was a fascinating experience to learn what drives San Diego agriculture from the region's leading crops, to the conservation taking place (and why it takes place), to the kind of technology gaining traction that enables farmers to manage their water.
The CRP team would like to thank Farm Bureau Executive Director Eric Larson and avocado farmer John Burr for their time.
First, a look at the numbers:
San Diego County has 251,000 acres of agricultural land generating $5.1 billion for the economy.
Some 200,000 acres of that is used for grazing by the cattle industry.
50,000 acres is used for irrigated farm land.
Nursery crops represent the biggest dollar value crop – 60 percent of the ag economy.
Avocados are the largest crop acreage-wise, representing 18,000 acres.
Those numbers are just part of the story. Delve a little deeper into the story of San Diego ag, and you'll learn that the region is number one in the nation in part-time farmers, meaning that the clear majority of farms in San Diego County are under 10 acres and many farmers have other jobs outside agriculture. In fact, Larson pointed out that the mean-size of farms in the region is four acres. Another interesting fact is that urban farms are beginning to sprout up in incorporated cities in areas around the county. Under a special designation known as an urban agricultural incentive zone, property owners can receive a tax break (taxed at an agriculture rate) for converting empty lots into farms.
Perhaps one of the most interesting aspects of San Diego County agriculture is how farmers manage their water.
Under a San Diego County Water Authority special agricultural rate for farmers who choose to participate (if their member agency elects to join in the program), the water charges are discounted but costs per acre-foot remain substantial. According to Larson, farmers in the nursery, flower, and livestock industry do not participate in the special rate, along with a number of fruit growers. That means many are paying full price for water. Conservation, then, is a way of life for San Diego-area farmers, driven by the need to not only manage water but more importantly, manage their costs to allow for a profit margin.
Increasingly, farmers are turning to technology, like ground sensors, to manage their irrigation use. In essence, farmers are self-limiting their water use to get the most of their crops with the smallest amount of water. It's about finding that sweet spot.
Farmer John Burr said he uses about four acre-feet per acre on his avocado orchards in Escondido. He uses micro sprinklers to irrigate his farm. He also uses a new technique of high density planting for his avocado trees that has successfully increased crop yields.
And, he is utilizing a system called the California Irrigation Management Information System (CIMIS) to help manage his water use. CIMIS—developed by the California Department of Water Resources and the University of California, Davis, which is available to everyone for free, involves the collection of data from a series of a hundred weather stations around California. The collected information determines atmospheric conditions that can then be localized to help determine irrigation needs—to prevent over- or under-watering. Burr said CIMIS has proven very helpful for his operation.
In the avocado industry, San Diego-area farmers face a great deal of competition, so finding ways to manage costs while expanding production is key. Currently, San Diego is listed as number two in the nation for avocado production. Ventura County is currently listed as number one. But California avocados face a market that includes massive avocado production from Mexico, Chile and Peru. Again, when facing a tough import market, it becomes essential for San Diego farmers to do all they can to control costs—which means controlling water use.
As for the future of San Diego County agriculture, Larson anticipates there will be growth—not in farmable acreage—but in the amount of production on existing land and the dollar value. He called it an "intensification" of production, like Burr's system of high density planting. That intensification will move forward always with an eye toward conservation to make the best use of water.